Amhere Recognized as the "Most Empowering IT Services & Consulting Firm 2023" by APAC-Insider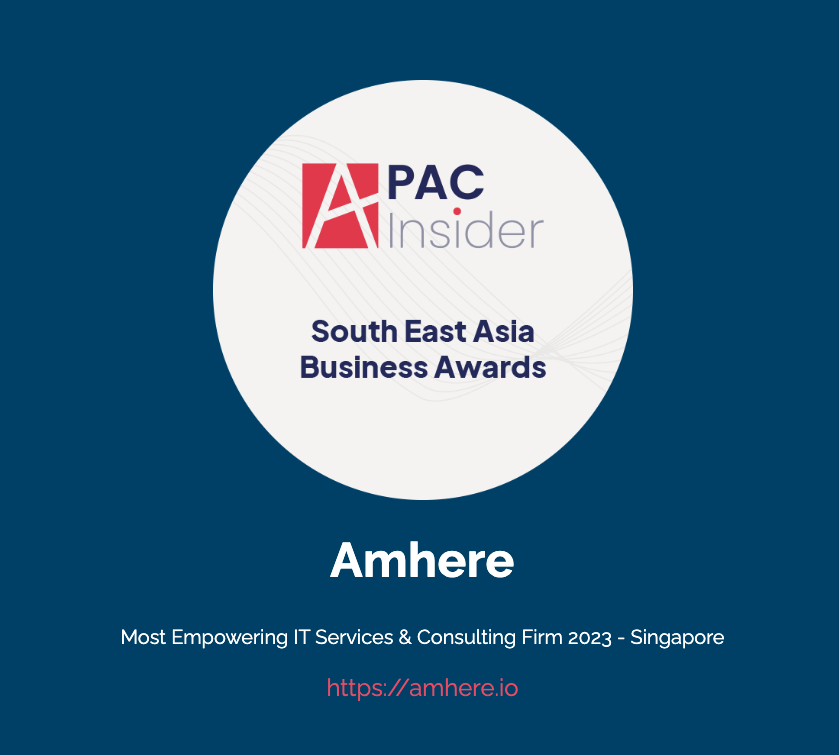 [Singapore, 14th July 2023] – Despite the uncertainty and challenges in front of us, Amhere is thrilled to announce that it has been awarded the prestigious title of "Most Empowering IT Services & Consulting Firm 2023" by APAC-Insider
The APAC-Insider Awards celebrate and honor organizations that demonstrate excellence, innovation, and exceptional performance across various industries. This year, Amhere stood out amongst its peers with its unwavering commitment to empowering businesses through cutting-edge IT services and unparalleled consulting expertise.
Amhere's dedication to delivering transformative solutions has earned the company a stellar reputation in the industry. Its team of highly skilled professionals, coupled with a customer-centric approach, has enabled Amhere to consistently exceed client expectations and drive tangible business outcomes.
Receiving the "Most Empowering IT Services & Consulting Firm 2023" award is a testament to Amhere's relentless pursuit of excellence and its continuous efforts to push the boundaries of what is possible in the IT services landscape. The company's ability to understand and adapt to evolving technology trends has allowed it to provide clients with customized solutions tailored to their unique business requirements.
"We are incredibly honored to receive this prestigious award from APAC-Insider. This recognition is a testament to the hard work, dedication, and expertise of our team," said Amy, COO of Amhere.
"We are committed to empowering businesses through our transformative IT services and consulting solutions, and this award reaffirms that we are on the right path, " said Marvin, Technical Advisor of Amhere.
Amhere's comprehensive suite of IT services includes software development, infrastructure management, cloud solutions, cybersecurity, and artificial intelligent. By leveraging state-of-the-art technologies and industry best practices, Amhere helps organizations optimize their IT infrastructure, streamline business processes, enhance productivity, and achieve sustainable growth.
As a forward-thinking IT services and consulting firm, Amhere is constantly innovating to stay ahead of industry trends and deliver groundbreaking solutions that drive business success. The company's commitment to empowering its clients with transformative technology solutions has made it a trusted partner for businesses across various sectors.
About Amhere:
Amhere is a leading provider of IT services and consulting solutions, empowering businesses to achieve their full potential through innovative technology solutions. With a customer-centric approach and a team of highly skilled professionals, Amhere delivers customized solutions that drive business growth, enhance productivity, and improve overall efficiency. For more information, please visit www.amhere.io.
About APAC Insider:
Published quarterly by AI Global Media, APAC Insider endeavours to bring you the latest need-to-know business content and updates from across the Asia Pacific Region. Keeping pace with a vast array of ever-changing sectors thanks to regular contributions from some of the region's foremost corporate professionals, APAC Insider is home to the very best news, features and comment from the people and institutions in the know.
Contact:
Media Relations
Amhere
Email: marketing@amhere.io